Online Resources
At The End of the Trail
by David P. Botsford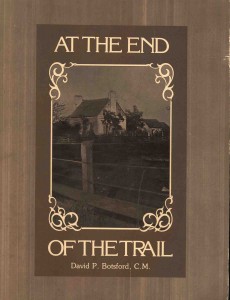 Index
.
Learn More
Edited and compiled by Eleanor Gignac, Linda Beare and Effie Botsford Illustrations by Yvonne Sinasac Originally published in a limited edition of 500 in 1985.  A collection of historical notes and anecdotes about the early days of Essex County, Ontario by noted local historian David Patterson Botsford. This book includes many references to local families, properties and businesses which may be of value to those doing genealogical research.
Example Chapters
Indians of Historic Times in the Detroit River Area
Amherstburg and the War of 1812
The Settlement of Malden
Anderdon, Past and Present
Amherstburg Doctors
Fall Fairs
Thomas Edison's Canadian Collection
The McCormicks' Big Feet and the Survey Ship
Wigle, Fox and Scratch Families of Essex County
"Nige" Brush's Race Nag
Brunner Mond Highlights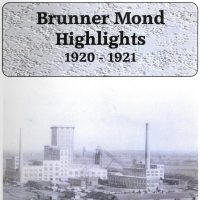 .
.
.
.
.
.
Learn More
Beginning in April 1920, a weekly column of "newsworthy" items concerning employees of Brunner Mond Limited was published in the Amherstburg Echo. Included were bowling scores and reports of other sports events, organizational meetings of Amherstburg Boy Scouts, the Brunner Mond Band, history of the Bowling Club, the Gun Club, as well as some local "gossip" etc. The column was published in the Echo from April 23, 1920 until 1924. Unfortunately, the writer of the column is unknown.
.
Calvert/ Seagram Newsletters & Magazine Excerpts
A collection of employee newsletters from Calvert/Seagram Amherstburg, as well as excerpts from Distillations, the Seagram company magazine, highlighting accomplishments and employees from Amherstburg.
.
Newsletters
.
.
Distillations Magazine Excerpts
Autumn 1971 January 1973December 1975Spring 1977Summer 1977Fall 1977Spring 1982Winter 1983Winter 1984Spring 1987Spring 1991
.
Conversation Pieces
By Helen Marsh
This book presents the column titled "Conversation Pieces", originally published in 1942 in The Amherstburg Echo as a weekly feature.
.
.
Echoing Through the Ages
A timeline of various events in and around the Amherstburg area (extracted from the Amherstburg Echo).
.
Forty Years to Fulfilment: Calvert of Canada
A brief history of Calvert of Canada, written by Frances Lacey in 1967.
Full Text
.
Land Instruments
.
Soundings
Marine News from The Amherstburg Echo
.
.
Upsetting the Hour Glass Indexes
.
With The Tide
by John Marsh
.
.
Index
.
.John Marsh's Recollections and Anecdotal Histories of the Town of Amherstburg and the Lower Detroit River District.