About
Amherstburg is one of the most historically significant places in Ontario.  In this Town, located along the lower Detroit River, is  a popular facility which contains an abundance of local history and genealogy resources.  Situated downtown, in an accessible building is the Marsh Collection Society, better known locally as the Marsh Historical Collection.
This organization was founded as a registered, non-profit charitable organization in 1983. It was the brain-child of the late John and Helen Marsh, natives of Amherstburg. Their parents, Arthur and Bessie (Hicks) Marsh, moved from Essex to Amherstburg in 1900 when Arthur became associated with The Amherstburg Echo as part owner and Secretary-Treasurer.  He was later joined in the business by his son and daughter who continued operating the Echo until 1981, a family tradition for over 80 years.
Although the Society was founded in 1983, it was the intent of the family that a facility to house their memorabilia would not open to the public until after their deaths, which occurred in 1986 (Helen) and 1993 (John) respectively.  While John and Helen's father Arthur W. Marsh was at the helm of The Amherstburg Echo, he had wisely maintained files on historical events in and around Amherstburg and Essex County. This collection, called the "Echo Morgue", eventually became the centerpiece of what is known today as the Marsh Historical Collection. On October 12th 1994, the Marsh Collection Society was officially opened on Dalhousie Street. The collection has since grown significantly, and has been relocated to 80 Richmond Street.
The Marsh Historical Collection mandate is "to collect, preserve and encourage research into the heritage of Amherstburg and the lower Detroit River district." The facility contains a large collection of photos, books, genealogical records, land instruments, maps, and reference files relating to the area. The office is open to visitors and researchers wishing to access the collection.
.
The Marsh Family
.
Arthur Marsh
(1872-1940)

.
Arthur was born in Moore Township, Lambton County.  After teaching school for a number of years, he moved to Essex Centre to work on the local paper.  In 1897 he came to Amherstburg as co-editor of the Amherstburg Echo, a weekly newspaper which had been started in 1874 by William D. Balfour and John A. Auld.  In 1899 Arthur married Bessie Hicks of Essex and the couple had two children, Helen (1900) and  John (1901).  Arthur was keenly interested in everything that enhanced the community served by his newspaper.  He was a well-respected and active leader who served as president for the Canadian Weekly Newspaper Association. His untimely death in a car accident in 1940 was a tragic blow to both his family and the paper that he had guided for so many years.
.
.
.
Bessie (Hicks) Marsh
(1876-1968)

.
.
Bessie was the undisputed heart of the Marsh family, well-loved by family, friends and neighbours.  Although a stroke in her early 70s kept her house-bound for the remainder of her life, she maintained a bright presence and was visited by hundreds of callers over the years.  Gracious, traditional, respectful of others and a  fine hostess, she was affectionately known as "Miss Bessie" by all.
.
.
.
.
.
John Marsh
(1901-1993)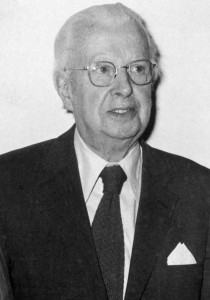 .
John joined the staff of the Echo after his graduation from McGill University in 1924, taking over editorship after Arthur's death in 1940.  During the 41 years that he guided the Echo, John was diligent in maintaining the high standards set by his father, as well as keeping up with technological changes in the business.  He also followed in his father's footsteps with his involvement in both the local community and the wider newspaper world.  He put his support behind any project that enhanced Amherstburg's historic nature.  Of particular significance were his efforts to promote the restoration of Fort Malden and its eventual designation as a national historic site.  His weekly column, "With the Tide," often dealt with controversial topics, but no one could doubt his devotion to the town and its environs.
.
.
.
.
.
..
Helen Marsh 
(1900-1986)

.
Helen left her teaching position at Amherstburg Public School in 1941 to assist her brother in running the Echo.  Her weekly writings, which continued for over 40 years, contained a wealth of information and deep knowledge and love of local families.  She advocated for women's rights before it was fashionable and was professional in her work, well-read and up-to-date with changing technology in the newspaper business.  She loved the youngest and oldest in the community; she loved fashion, reading novels, entertaining at home and the theatre.